February 23:
The modern flag of Wales was officially approved.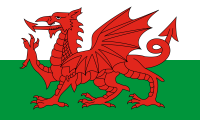 April 1:
Mauritania adopted a flag.
April 4:
The Sudanese Republic and Senegal united to form the Mali Federation.

June 1:
Tunisia issued exact construction specifications for its flag.

June 29:
Gabon adopted a flag. The green and blue stripes represented the forest and the sea, and thin yellow line represented the equator passing through the country. After independence the French flag was removed and the stripe was widened.
June 30:
A legislative commission in Chad proposed adopted a plain green-yellow-red tricolour as its national flag. However, the flag was deemed to be too similar that of Mali and was never adopted.
July 4:
The United States added a 49th star (for Alaska) to its flag.

July 14:
Iraq adopted a new flag, exactly a year after the revolution that deposed the monarchy.

August 18:
The Republic of Congo adopted a flag.
September 29:
Upon becoming an autonomous protectorate, Brunei added an emblem to its flag.

September 30:
The Nyasaland African Congress was reconstituted as the Malawi Congress Party. The country would become officially independent under the name Malawi five years later.
October 1:
East Germany added an emblem to its flag.

October 1:
Taiwo Akinkunmi, a college student, won a competition to design the national flag of Nigeria. A variation on his design without the red sun was adopted when Nigeria became independent the following year. Akinkunmi is still known as "Mr. Flag Man", and lives in a green and white house.
October 4:
The United National Independence Party was formed in Zambia. Its flag would form the basis of the country's national flag when it became independent in 1964.
November 6:
Chad adopted a flag.
November 16:
Dahomey adopted a flag.
November 23:
Niger adopted a flag.
December 3:
The Ivory Coast adopted a flag.
December 3:
Singapore adopted a flag.
December 9:
Upper Volta adopted a flag. The three stripes stood for the three branches of the Volta River -- the Black, White, and Red Volta.
December 15:
Suriname and the Netherlands Antilles adopted flags.