February 12:
The Republic of Macedonia was officially renamed North Macedonia, ending its 27-year name dispute with Greece.
Ongoing:
Martinique is holding a contest to design a new flag. Nearly 170 proposals have been submitted to the territorial committee. Three finalists will be presented to the population in late February.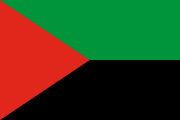 Ongoing:
Poland is in the process of slightly adjusting its coat of arms. Reports suggest the eagle will be redrawn with gold legs and a different crown.