February 12:
The Republic of Macedonia was officially renamed North Macedonia, ending its 27-year name dispute with Greece.
April 8:
The government of Martinique unveiled the three finalists in its flag design contest. The designs were given the names Ipséité ("Selfhood"), Acaéra ("Country") and Le Flamboyant. In response to the contest, a petition was launched to officially adopt the nationalist red-green-black flag instead.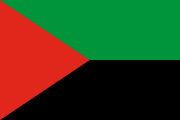 May 10:
The winning design in the Martinique flag contest was officially raised for the first time. The flag was adopted as a politically neutral symbol to be used internationally, especially at sporting events. It supplanted the traditional but unofficial snake banner, which had first been flown by slave ships in the 18th century. Supporters of the nationalist red-green-black flag immediately protested the new design.

Ongoing:
Poland is in the process of slightly adjusting its coat of arms. Reports suggest the eagle will be redrawn with gold legs and a different crown.