January 4:
Afghanistan shortened the ratio of its flag from 1:2 to 2:3.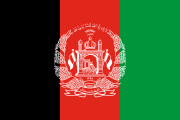 January 14:
Georgia adopted a new flag, based on a banner ascribed to the medieval Kingdom of Georgia in a 14th-century atlas. The design was adopted following the Rose Revolution, which brought the pro-Western United National Movement to power.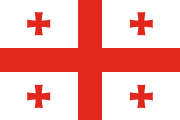 April 6:
The Cocos (Keeling) Islands adopted a flag. The green and yellow colour scheme was derived from Australia's sporting colours.
April 24:
Voters in Cyprus rejected the Annan Plan, which would have reunited the island under a new flag. The broad yellow stripe was to symbolize the island as a whole, while the blue and red stripes symbolized the Greek and Turkish communities.
April 28:
The Iraqi Governing Council announced a new flag for post-Saddam Iraq. The blue stripes represented the Tigris and Euphrates rivers, and yellow and light blue colours represented the Kurdish and Turkmen minorities respectively. The flag's total break with the flag design traditions of the Arab world proved extremely unpopular and the project was shelved.
May 25:
The republic of Chechnya adopted a new flag with a golden ornament.

June 28:
Iraq modified its flag to replace Saddam Hussein's handwriting with Kufic calligraphy.

July 2:
The joint parliament of Serbia and Montenegro considered a proposal to abandon the old Yugoslavian flag in favour of a "compromise" design which combined the nearly identical tricolours of Serbia and Montenegro. The project died after Montenegro adopted a radically different flag later that month.
July 19:
Bolivia slightly modified the design of its coat of arms.

September 1:
Lithuania shortened the ratio of its flag from 1:2 to 3:5 and adopted a new state flag, similar to the one used before the Second World War.