February 20:
The Democratic Republic of Congo adopted a new flag, modelled on the one used from 1963 to 1971.

March 12:
Venezuela added an eighth star to the flag, a reference to an 1817 decree by Simón Bolívar that the Venezuelan flag should have eight stars. The coat of arms on the state flag was also modified. Some opposition groups continued to fly the previous seven-star flag.


June 3:
Montenegro declared independence from Serbia and Montenegro, leading to the automatic dissolution of the union and the independence of Serbia. Both republics had adopted their own national symbols in 2004.

August 20:
Cyprus slightly modified the construction details of its flag.

October 4:
Lesotho marked the 40th anniversary of its independence with a new flag. The Bathoso hat, which had been removed after a military coup, was added back. The blue white and green stripes were said to stand for rain, peace and prosperity.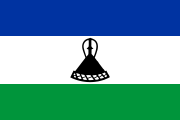 October 5:
The Bolivian media reported that Evo Morales was planning to add an indigenous wiphala pattern to the country's flag. In the end the wiphala became a co-national flag in its own right three years later.
October 5:
A Luxembourger MP introduced legislation to make the Roude Léiw (Red Lion) banner the national flag. The banner, based on the coat of arms of Luxembourg's royal family, is currently the country's civil ensign. In the end the initiative didn't pass.
December 28:
A new national flag was proposed during Myanmar's constitutional convention. The colours of the flag echoed the flag of the Japanese puppet state of Burma during World War II. A similar proposal the following year would evolve into the flag that was eventually adopted in 2010.