January 1:
Western Samoa became independent from a New Zealand-administered Trusteeship.
March 1:
Uganda selected a provisional independence flag in the colours of the ruling Democratic Party. However in April they lost power to the Uganda People's Congress, which then rejected the proposed flag. In May a new flag in their the UPC colour scheme was adopted, and it was raised when the country became independent in October.
March 9:
The Oglala Sioux Tribe adopted a Lakota flag consisting of eight tipis in a circle.
April 5:
The Revolutionary Government of Angola in Exile was established in Léopoldville.
May 8:
The Uganda People's Congress came to power in Uganda and rejected adopted a provisional flag before independence.
May 31:
The West Indies Federation was dissolved after Jamaica and Trinidad opted for separate independence.

June 6:
In preparation for independence, Jamaica selected a national flag. However, the flag was discovered to be almost identical to that of Tanganyika, and was sent back to the drawing board. Two weeks later, the colours were rearranged into a diagonal cross pattern and the flag was approved.
June 25:
The Mozambique Liberation Front (FRELIMO) was established. Its flag would eventually become the basis for the Mozambican national flag.

July 1:
Burundi and Rwanda became independent from a Belgian-administered Trusteeship.
July 3:
Algeria became independent from France. The independent flag had a slightly different flag than the provisional government.

August 6:
Jamaica became independent from the United Kingdom.
August 31:
Trinidad and Tobago became independent from the United Kingdom.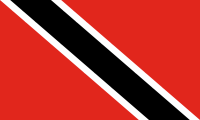 October 1:
West Papua was transferred to a transitional United Nations administration.

October 9:
Uganda became independent from the United Kingdom.
November 1:
After overthrowing the monarchy, the republican government of Yemen adopted a new flag. The flag was based on that of the United Arab Republic.

November 14:
Eritrea was annexed by Ethiopia. Its flag was officially abolished but was still flown by the Eritrean Liberation Front.
December 16:
Nepal standardized the design of its flag and simplified it by removing the faces from the sun and moon.

Sometime in 1962:
Papua and New Guinea began flying a local flag with a bird of paradise on it.