January 1:
Ethiopia removed the crown from the Lion of Judah on its state flag.

April 17:
Upon seizing Phnom Penh the Khmer Rouge temporarily replaced the name Khmer Republic with Cambodia and readopted the 1948 flag. Within the country a plain red flag was unofficially used by the new government.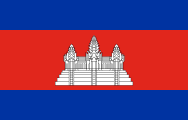 April 30:
Following the Fall of Saigon and the capitulation of the Republic of Vietnam, the Viet Cong flag became the flag of South Vietnam.

May 16:
Sikkim was annexed to India.

May 20:
Cameroon replaced the two stars on its flag, which had represented the Anglophone and Francophone communities, with a single "star of unity".

June 7:
Greece readopted its old land flag as the sole national flag.

June 25:
Mozambique became fully independent from Portugal and adopted a new flag in the colours of the FRELIMO flag.

July 5:
Cape Verde became independent from Portugal. Its new flag was modelled on that of Guinea-Bissau, which had been liberated by the same independence movement.
July 6:
The Comoros became independent from France.
July 12:
São Tomé and Príncipe became independent from Portugal.
Sometime in July:
A flag contest in the Solomon Islands was won by a blue flag with a frigatebird inside a yellow circle. The proposal was rejected because it only represented the island of Guadalcanal.
September 12:
Ethiopia replaced the Lion of Judah on its state flag with the Derg emblem.

September 16:
Papua New Guinea became independent from Australia.
October 15:
Niue adopted a flag.
November 5:
São Tomé and Príncipe officially adopted a flag that was basically identical to that of the MLSTP. The only difference was a slightly wider yellow stripe.

November 11:
The MPLA, which was in charge of Luanda and the majority of urban centres in Angola, declared the country's independence from Portugal. The new national flag was based on the party flag, with a cogwheel and machete symbol modelled after the Soviet hammer and sickle. The FNLA and UNITA refused to accept MPLA rule, resulting in a civil war that lasted for another 27 years. UNITA attempted to set up a rival government in Huambo under its own party flag, but it was routed by MPLA forces within a few months.

November 12:
The Comoros adopted a red flag which reflected the socialist leanings of the new government.

November 25:
Suriname became independent from the Netherlands and adopted a new flag.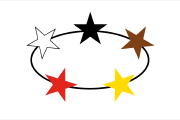 November 28:
East Timor unilaterally declared independence from Portual. Indonesia quickly occupied and annexed the nascent country.

November 30:
Dahomey changed its name to Benin and adopted a new flag. The ruling People's Revolutionary Party had a similar flag with a green star on red.

December 2:
Laos readopted the flag flown by the Lao Issara in 1945.

December 30:
The Malagasy Republic went back to the name Madagascar.