January 5:
Cambodia was officially renamed Kampuchea and adopted a new flag.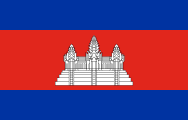 February 27:
The POLISARIO Front declared the independence of Western Sahara.
June 29:
The Seychelles became independent from the United Kingdom.
July 2:
North and South Vietnam were unified as the Socialist Republic of Vietnam. The North's flag became the flag of the whole country.

Sometime in September:
The Central African Republic considered adopting a distinctly Islamic flag as part of a strategy of winning economic support from Libya's Muammar Gaddafi.
December 4:
President Jean-Bédel Bokassa of the Central African Republic crowned himself emperor and declared that the country was now called the Central African Empire.