January 21:
Spain slightly modified its coat of arms.

January 23:
The Eritrean People's Liberation Front adopted a flag. It would eventually become the model for Eritrea's independence flag two decades later.

June 27:
The French Territory of the Afars and Issas became independent as Djibouti. It adopted the same flag used by the Somali Coast Liberation Front during the independence struggle.
June 29:
Less than a month after the coup which brough the Seychelles Peoples United Party to power, the Seychelles adopted a new flag modelled on the SPUP party flag.

November 11:
Outraged over Anwar Sadat's visit to Israel, Muammar Gaddafi had the flag of the Federation of Arab Republics ceremonially burned and adopted a plain green flag as a "provisional" measure. It would remain flying until he was deposed over 30 years later.

November 18:
The Solomon Islands adopted a flag.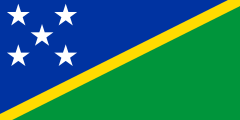 November 29:
The Vanua'aku Party in the New Hebrides adopted a flag for its "People's Provisional Government". Three years later, when the country achieved independence as Vanuatu, it adopted a flag with many of the same basic elements.
Sometime in December:
The Sámi poet Synnøve Persen designed a flag for Sápmi. The colour scheme had been used by activists in Norway since the 1960s.