January 1:
The Northern Mariana Islands became a U.S. Commonwealth. The territory's flag remained unchanged.
April 27:
President Mohammed Daoud Khan of Afghanistan was overthrown in a coup. The new regime removed the seal from the national flag.

May 26:
Finland adopted a new state flag.

July 7:
The Solomon Islands became independent from the United Kingdom.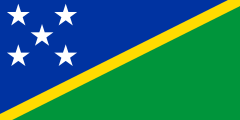 July 28:
The Portuguese island of Madeira adopted a flag with a cross of the Order of Christ in the centre.
October 1:
The Comoros adopted a new flag.

October 1:
Tuvalu became independent from the United Kingdom.
October 9:
The Cherokee Nation adopted a flag with seven seven-pointed stars in a ring around the Great Seal, which itself contained a seven-pointed star. The number seven referred to the seven original Cherokee clans and the seven traditional Cherokee festivals.

October 19:
Afghanistan adopted a new flag — the only one in the country's history to not include the colour black. The emblem on the flag included the word Pashto word "Khalq" ("The People").

November 3:
The British associated state of Dominica became fully independent and adopted a new flag.

November 30:
The Congress of Micronesia removed two stars from its flag. The new design symbolized the four remanining districts that would officially unite to form the Federated States of Micronesia the following year.

December 22:
Greece readopted the striped flag as its sole national flag.