January 7:
The Vietnamese army overthrew the Khmer Rouge and established a new People's Republic of Kampuchea in Phnom Penh. The new regime adopted the 1945 flag of the Khmer Issarak independence movement, which featured a five-tower depiction of Angkor Wat. The old government retained international recognition under the three-tower flag.
February 5:
Ayatollah Khomeini declared the creation of a provisional revolutionary government in Iran. Its flag was a plain tricolour without the traditional lion and sun symbol.

March 1:
The British associated state of Saint Lucia became fully independent under a slightly modified flag.

April 10:
The Azores adopted a flag which was heavily inspired by the old blue and white flag of the Portuguese monarchy.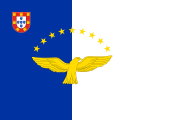 May 1:
The Marshall Islands became self-governing under United Nations trusteeship.
May 10:
The Federated States of Micronesia was established under United Nations trusteeship.
June 6:
Norfolk Island adopted a flag.
July 12:
Kiribati became independent from the United Kingdom.
August 4:
The Cook Islands adopted a new blue ensign with the ring of stars from its previous flag in the fly.

August 21:
Equatorial Guinea readopted its original flag following the ousting of Francisco Macías Nguema.

September 2:
The unrecognized Rhodesian government (now calling itself "Zimbabwe Rhodesia") adopted a new flag to symbolize its transition to a multi-racial democracy.
(Not pictured above.)
The new government was unable to gather any international support and later that year the country officially reverted to British rule.
September 21:
Bokassa I of the Central African Empire was overthrown and the Central African Republic was restored.
October 27:
The British associated state of Saint Vincent became independent as Saint Vincent and the Grenadines and adopted a new flag with a large breadfruit leaf on it.