February 6:
Ethiopia added a pentagram emblem, symbolizing the unity and equality of all people in the country, to its national flag. The plain tricolour flag was still widely flown within the country and the diaspora, despite having no legal status.

June 18:
After the establishment of multi-party democracy in Seychelles, the country's parliament adopted a new flag, incorporating the colours of all the major political parties. The old flag had been based on the flag of the former ruling party, the Seychelles People's Progressive Front.

September 27:
The Taliban conquered Kabul, the capital of Afghanistan, and raised their plain white flag over the city. For the next five years they would be the country's de facto government, even as the government they displaced retained international recognition.
Sometime in September:
A flag change was under consideration in Angola. The preferred design would have combined the colours of the MPLA and UNITA. The flag was never adopted.
October 3:
The Comoros added Arabic inscriptions reading "Allah" and "Muhammad" to its national flag.

October 14:
The unrecognized breakaway republic of Somaliland adopted a more conventional national flag.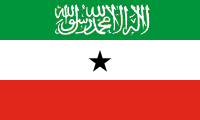 October 31:
The Ethiopian flag proclamation from February was amended to enlarge the emblem. In practice, the size of the emblem varies from flag to flag.

Sometime in 1996:
Vexillologist Graham Bartram designed an Antarctic flag for use in a piece of computer atlas software. It has since become the standard flag of Antarctica online, most notably in the continent's flag emoji.
January 25:
Bechuanaland selected a national flag in advance of independence. Unusually for an African country, it was designed by a member of the British colonial administration, and therefore includes neither the pan-African colours nor the colours of any political party. The light blue background represents rain.