January 4:
The Italian region of Sicily adopted an official flag.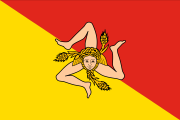 January 25:
The Ausflag organization proposed a new Australian flag with a gold commonwealth star replacing the Union Jack. This is the most notable of hundreds of proposals over the last few decades, none of which have found wide acceptance in the country.
June 29:
Following the end of the Second Chechen War, the new pro-Russian government in Chechnya readopted the republic's original flag.