January 1:
The Republic of the Congo changed its name to the People's Republic of the Congo and adopted a new flag.

May 20:
A year after the coup d'état which brought Gaafar Nimeiry to power, Sudan abandoned its ethnically neutral independence flag for an Arab Nationalist design.

June 4:
The United Kingdom terminated its protectorate over Tonga.
August 9:
Muscat and Oman changed its name to just "Oman".
August 18:
Greece eliminated the land flag and changed the ratio of the sea flag from 2:3 to 7:12.

October 9:
Cambodia changed its name to the Khmer Republic and adopted a new flag.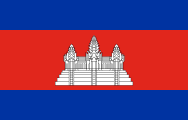 October 10:
Fiji became independent from the United Kingdom and adopted a new light blue ensign.
November 17:
A proposal was presented to the parliament of Papua and New Guinea to adopt a new flag and change the country's name to Pagini. The unpopular proposal was rejected, but the southern cross and bird of paradise symbols found their way onto the country's flag the following year.
December 17:
Oman adopted a new flag.