March 12:
Papua New Guinea adopted a new flag.

March 26:
Bangladesh declared independence from Pakistan.
April 8:
A Romani flag was adopted at the first World Romani Congress in London. The cartwheel was meant to evoke the Ashoka Chakra on the Indian flag, but also symbolized the nomadic traditions of the Romani people.

May 21:
Bulgaria changed the emblem on its flag.

July 9:
Qatar changed the ratio of its flag from 11:30 to 11:28.

July 12:
The Australian Aboriginal flag, designed by activist and artist Harold Thomas, was raised for the first time in Adelaide. The red, yellow and black colours represented the earth, the Aboriginal people, and the Sun. In 1995 the flag became an official flag of Australia.
August 15:
The United Kingdom terminated its protectorate over Bahrain.
August 27:
Andorra slightly adjusted the design of its flag.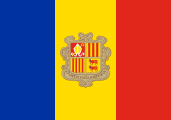 September 3:
The United Kingdom terminated its protectorate over Qatar.
September 11:
Ten years after the separation of Syria, the United Arab Republic reverted to the name Egypt. It retained the two-star flag.
October 29:
The Democratic Republic of the Congo changed its name to Zaire.
November 19:
Zaire adopted a new flag.

December 1:
The United Kingdom terminated its protectorates over the seven Trucial States. The next day, Abu Dhabi, Ajman, Dubai, Fujairah, Sharjah, and Umm al-Quwain united to form the United Arab Emirates. Ras al-Khaimah opted to remain independent.