February 2:
Namibia adopted a new flag in advance of its independence.

February 3:
The Cambodian government-in-exile announced readopted the 1948 flag.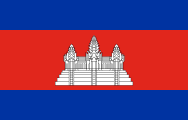 February 6:
The Māori flag, also known as the Tino Rangatiratanga ("absolute sovereignty") flag, was unveiled by the activist group Te Kawariki on the 150th anniversary of the signing of the Treaty of Waitangi. The flag depicts the shape of a curling silver fern frond.
February 9:
Poland restored the crown on its coat of arms.

March 21:
Namibia gained its independence from South Africa.
May 22:
North Yemen and South Yemen merged to form a single Republic of Yemen.

April 4:
The Chinese government adopted a flag for Hong Kong in advance of the 1997 handover.
July 7:
The Iroquouis Nationals – the national lacrosse team of the Haudenosaunee Confederacy – had their first international game at the World Lacrosse Championship in Australia. Since they didn't have a national flag to compete under, the team created one with an image of the Hiawatha belt, a historic artifact which had just been returned to the Onondaga nation the previous year. This wampum belt records the union of the Seneca, Cayuga, Onondaga, Oneida, and Mohawk nations.
August 1:
Benin readopted the original flag of Dahomey.

August 11:
Gagauzia unilaterally declared its secession from Moldova.
August 24:
Armenia readopted its original tricolour from 1918.
October 3:
East Germany joined West Germany, which from then on was known simply as Germany.

November 3:
Dominica removed the yellow outlines from the stars on its flag.

November 6:
Moldova adopted a new national flag, based on the tricolour flag of neighbouring Romania.
November 14:
Georgia readopted its original flag from 1918.
November 22:
Bulgaria removed the communist emblem from its flag.


November 23:
Chechnya adopted a national flag. It declared its sovereignty from Russia a few days later.
November 29:
Azerbaijan adopted a version of its original flag from 1918.